---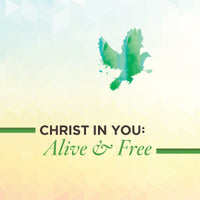 Christ In You: Alive & Free is a 6-week discipleship booklet encouraging exploration and discovery of critical truths about Christianity and what it looks like to live by faith. It is designed to facilitate connection through intentional one-on-one or small group discipleship, though it is also useful for those who choose to go through it on their own.

Chapters 1-3 are primarily foundational, identity-related chapters that reinforce understanding of what happened at creation and the fall, what happens at salvation, and how intimately united we now are with Christ. Chapters 4-6 encourage the believer to live life from Christ, in the power of the Spirit. At the end of each chapter are questions to encourage reflection and to help you connect with someone you trust who will walk through it with you, as well as prayers and helpful verses that connect to the content of the chapter.
Our hope as you walk through this material is that you will know who you are, who Christ is in you, how alive and free he's made you, and as a result that you begin to live fully available to God so he can live through you, alive and free.